Nov 13
8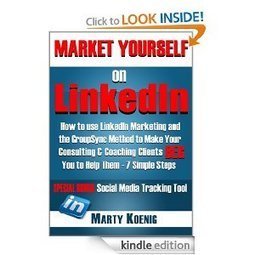 MARKET YOURSELF ON LINKEDIN: How To Use LinkedIn Marketing and the GroupSync Method to Make Your Consulting & Coaching Clients BEG You To Help Them – 7 Simple Steps (Series: Marketing Yourself) – Kindle edition by Marty Koenig.
Marty Koenig's insight:
New book just released.
Today just 99 cents!
You don't need a Kindle, just a Kindle app for your IOS, Andriod, PC or MAC see the link inside the book.
Buy now: http://bit.ly/Market-Yourself-on-LinkedIn-Kindle
Reviews prior to publishing on Kindle:
"This is just absolutely great. Very informative."
" I highly recommend this."
"Wow!!!!! Much more than what I expected and a ridiculous bargain for the quality of information and great breakdown of how to generate leads on LinkedIn. Great job Marty!!!!!!"
I would sure appreciate another review or two
Excerpts:
"It's a fact. Consultants, advisors, coaches, solopreneurs, and small business owners often struggle to get enough sales leads. Are you one of them? I struggled too, but not anymore.
Getting profitable business leads from LinkedIn is easy if you use the 7 simple steps in this book. You will learn exactly how to use the GroupSyncTM Formula to get more leads than you know what to do with. I promise I won't bore you with pages of babble all about me and my story before you get to the meat of the book. I just want you to read this quick book and get on with getting your leads. It's that simple!
Most books on LinkedIn to cover too much information. They are also too general. I've got a ton of consulting and coaching experience, but I have used this very same method to help people that sell other services and product across many industries. I've read many other LinkedIn books and they make my eyes glaze over. They try and cram an entire semester of MBA courses into a fat book and spew everything they know at you, hoping you'll pick up a useful tip or two. They take hours and days of your life to get through them. Seems like they make their book all about themself and showing off how smart they are, and how much money they can make selling their books. They try to be everything to everyone, which in business is a recipe for failure.
"I only cover one area of LinkedIn and teach you how to become an expert."
You will get more leads if you follow my method. Period.
My book is all about you, not me. Keep reading and learn the single topic: How to Get Tons of Leads. That's it. Just for you. This book includes plenty of beautiful screenshots.
Visualize what your life will look like when you have a huge number of highly pre-qualified leads from people who want exactly what you have. Go ahead, take a full 10 seconds and imagine how your life will be different. I'll wait…….(humming smooth jazz music).
OK, you may be thinking "I will have to follow up on all of those leads which will be more work". Yep, success does take a little work. I would be honored to give you more work, more money, and more time with your family and friends.
You may have thought "Boy, I'd walk on glass in my bare feet to get more leads and make more sales." Whatever you dreams are, I am here to get you there faster and more efficiently.
There are lots of ways people get new leads on the internet and on LinkedIn. GroupSync is one of them. It simply works. When you read about the GroupSync formula, you can apply the exact information that works for me. I wrote the precise instructions as I was actually doing it. Isn't it refreshing to get information like this from someone who has actually done it?
"This book is not theory. It's actionable and proven information you can use immediately to achieve the success you deserve."
I'm a consultant, coach and advisor to small, medium and Fortune 100 companies. Personal experience as a Chief Marketing Officer, Chief Strategy Officer and Chief Financial Officer means you get plenty of business experience. These days LinkedIn has 240+ million users worldwide. Back in 2011 Reid Hoffman, the founder of LinkedIn sent me a personal email congratulating me for being in the exclusive club of early adopters of LinkedIn. I was number 742,365 joining LinkedIn in 2003. I know what I'm doing.
Now it's your turn!
The GroupSync method skyrocketed my business beyond what I thought possible. If you want more leads than you know what to do with, keep reading. I've been told when you read this book, it's like I'm sitting there next to you, coaching you through it all. Like I have done for thousands of others. It only takes 35-45 minutes to read.
If you don't read this now, it may be too late to get all the leads you need. Let's get right to it. Be sure and get my special bonus: GroupSyncTM Tracking Tool. I've been told that alone is worth the price of the book."
See on www.amazon.com