Jul 13
26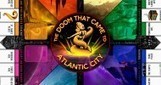 In an update on Kickstarter, Erik Chevalier of the board games company The Forking Path informed backers that the game 'The Doom That Came to Atlantic City!' was canceled.
Marty Koenig's insight:
This is a big DUH. Just like many business owners, they think they can do it by brute force and guessing. Never happens. Well, maybe .01% of the time a handfull get lucky. Same with crowdfunding.
See on www.crowdsourcing.org