Dec 13
7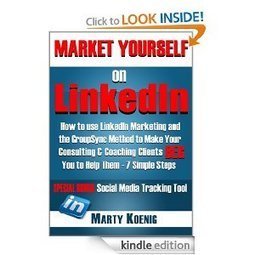 MARKET YOURSELF ON LINKEDIN: How To Use LinkedIn Marketing and the GroupSync Method to Make Your Consulting & Coaching Clients BEG You To Help Them – 7 Simple Steps by Marty Koenig.
Marty Koenig's insight:
New book just released.
You don't need a Kindle, just a Kindle Reader app for your IOS, Andriod, PC or MAC see the link inside the book.
Buy now: http://bit.ly/Market-Yourself-on-LinkedIn-Kindle
Reviews:
"This is just absolutely great. Very informative."
" I highly recommend this."
"Wow!!!!! Much more than what I expected and a ridiculous bargain for the quality of information and great breakdown of how to generate leads on LinkedIn. Great job Marty!!!!!!"
Excerpts:
"It's a fact. Consultants, advisors, coaches, solopreneurs, and small business owners often struggle to get enough sales leads. Are you one of them? I struggled too, but not anymore.
Getting profitable business leads from LinkedIn is easy if you use the 7 simple steps in this book. You will learn exactly how to use the GroupSyncTM Formula to get more leads than you know what to do with. I promise I won't bore you with pages of babble all about me and my story before you get to the meat of the book. I just want you to read this quick book and get on with getting your leads.
I cover one area of LinkedIn and teach you how to become an expert at it.
Be sure and get my special bonus: GroupSyncTM Tracking Tool. I've been told that alone is worth the price of the book.
"Marty Koenig has done an excellent job in laying out a program in 7 easy steps to maximize your exposure and expand your marketing abilities" – Dennis Waller TOP 500 REVIEWER
"This is actually a workbook for you to go through and come out on the other side with a firm plan on how to use Linkedin to acquire qualified leads – lots of them." – Shmaya David

5.0 out of 5 stars "Practically a LinkedIn lead-acquisition workshop. Short and to the point."
See on www.amazon.com