Mar 13
15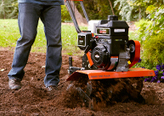 Marty Koenig's insight:
This is a brilliant email campaign.
1. It draws you in, and compels you to pick your area of focus for the season.
2. It's clean, simple, and not cluttered with a huge colored rectangle around it with blocks of "color for the sake of color" like I see so many from the liks fo Constant Contact and Mail Chimp.
3. It begs you to read it – people LOVE to put themselves in categories. What category are you?
See on view.e.lowes.com