Nov 13
23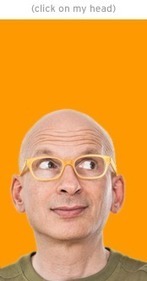 It's more of a skirmish, actually. Plenty of recruiters and those in HR like to talk about engaging in a war for talent, but to be truthful, most of it is about finding good enough people at an acceptable rate…
Marty Koenig's insight:
Attitude, yes. Give me an employee with good talent with a great attitude, a fire in the belly, and she will add value like no other. Give me great talent and a great attitude, and you have a star. But wait….that's not the whole story. Seth left out important considerations:
An employee with both a great attitude and talent won't matter unless they are personally aligned in their head, heart, and soul with the values of the organization. Then, if the company culture values its principles as the way all decisions are made, the employee will have the right framework to make the right choices. Fundamentally, under the backdrop of attitude and talent, that makes a super star employee.
Values and principles are the choice of company leadership. Once set, they don't change. If the company hires people who aren't totally in sync, they are doing the employee and their organization a disservice.
This review was written by Marty Koenig for his curated content on the latest and coolest marketing strategies at scoop.it/t/crowdfundingrocks.
See on sethgodin.typepad.com