Dec 13
23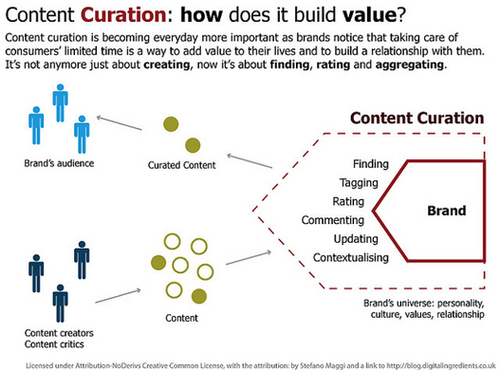 Content curation is all about collecting best of the stuff from the web. A content curation blog is one easy way to make money and add passive income.
Marty Koenig's insight:
This article misses a few things, but it's a good start. The author talks a lot about the "HOW" and not as much as the "WHY" and the overarching strategies.
Content curation is a thing to do. Here's why anyone will start and manage content curation:
For pedagogical reasons, where the curator wants to teach and mentor others their topic.
For simple sharing and making it easier for others to find articles and posts on a topic instead of surfing for hours. It's a time saver to read other's curated feeds rather than endless internet searches or rss feeds.
As a personal collector, so you have all your "read later" posts or where you create your encyclopedia as a continuous, life-long learner. To use as your personal library, but with posts and videos, not necessarily books.
Start a conversation on a topic about which you are passionate.
A lighthouse that illuminates your social media networks and general online presence.
A social place, kind of a hangout where you can read, learn from and share others' curations – that's called curating the curators. I have personally gained some wonderful relationships with other curators just by being active, as a giver and recommender.
As one marketing tactic in the grand scheme of modern marketing strategies and public relations.
It's a myth to believe that making money can happen directly from content curation, or any singular marketing tactic for that matter. If that's the goal of a content curator, it's the wrong one. Modern marketing demands an ever-widening realm of placement and positioning.
Marketing by definition is not selling. It's not like you post something on a curation platform and expect people to buy directly from you like they do on craigslist or Amazon.
Here are some simple steps to get the wannabe curation marketer started if you want to make money at it:
Find a good platform (I use Scoop.it as my lighthouse platform).
Curate what you love and feel you absolutely must share with others.
Add value, additional points of view, a summary, your experiences, and your insight as a curator.
Build a loyal following by leveraging modern marketing principles.
Occasionally toss in some content that's relevant to what you sell. Don't sell.
Curation can make people to know you, like you and trust you. Only after that will they feel compelled to buy from you.
This article is curated by Marty Koenig at http://scoop.it/u/MartyKoenig. Curation includes modern marketing, social media, ecommerce, technical gadgets, leadership and management.
See on www.shoutmeloud.com