Nov 13
13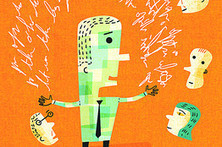 "Paul Smith had 20 minutes to sell the CEO of Procter & Gamble, and his team of managers, on new market-research techniques for which Mr. Smith's department wanted funding. As associate director of P&G's PG -0.39% market research, Mr. Smith had spent three weeks assembling a concise pitch with more than 30 PowerPoint slides.
On the day of the meeting, CEO A.G. Lafley entered the room, greeted everybody and turned his back to the screen. He then stared intently at Mr. Smith throughout the entire presentation, not once turning to look at a slide.
"I felt like maybe I hadn't done a very good job because he wasn't looking at my slides like everyone else," says Mr. Smith, who also noticed that the other managers didn't seem very engaged. "It didn't occur to me until later that he did that because he was more interested in what I had to say than in what my slides looked like."
Marty Koenig's insight:
Story telling is becoming the #1 thing people and companies are doing. Marketing is King and telling a compelling, personal account is a talent very few people have. Slideware is not the story. YOU are the story. Learn it and apply it. Or het some help.
Marty Koenig, Curating here: @Marty Koenig
See on online.wsj.com