May 14
1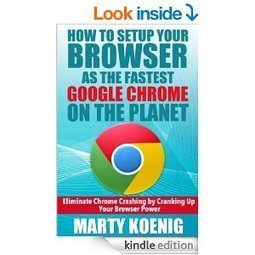 Amazon.com: How to Setup Your Browser as the FASTEST GOOGLE CHROME on the Planet:: Eliminate Chrome Crashing by Cranking Up Your Browser Power eBook: Marty Koenig: Kindle Store
Marty Koenig's insight:
It's all over the news. Recent security issues with Internet Explorer should worry you. More and more people are moving to Google Chrome browser instead. In fact, 58% on the internet now use Chrome (March 2014).
Google's Chrome and Chromium browsers are very safe. You will want the fastest, most productive and fun browser to perform to the max!.
This timely book shows novices and the experts exactly how to eliminate all your Chrome problems, flash crashes, for those running on Windows 8.1 operating system. I used my laptop and after days of experimenting, I documented it as I went along.
Useful and enlightening performance benchmarks are included in the book. Get it while it's fresh!
http://www.amazon.com/Browser-FASTEST-GOOGLE-CHROME-Planet-ebook/dp/B00K1S9OCG
Author: Yours truly: Marty Koenig
See on www.amazon.com